Oh my actual days, well this has been pretty alright really hasn't it? Getting on for two weeks of sunshine and still they forecast more to come, who's complaining? Well of course some people are because that's just the nature of us Brits, first it's too wet, or too cold and then it's too hot and sticky? It always amazes me how that happens, granted not everyone can be accused, but on a hot day you will inevitably hear someone negatively discussing the weather, as if, they had suddenly forgotten how abysmal June was and as how delicious it feels to have the sun beating down on our pale English bods!
Not me! In fact we have been making the most of the summer spells and equipped with a laptop, a few instruments, logic and some monitor speakers we have travelled down to the North Coast of Cornwall to escape the distractions of the city and focus on songs and new music. It's been so so good, we'll spend some time at the desk laying down bits and pieces and then we'll meander down to the beach to de-tangle our busy musical minds for the next session.
This week I was accompanied by an old school friend and talented photographer Alex Thomas and my writing buddy/multi-instrumentalist Ben Daniel (Bear). Al stayed at our little Cornish beach house for the first part of last week and on the Tuesday night as the sun dropped we saw it was going to be a stunner so we grabbed a bunch of his gear and walked over to world famous surf spot Constantine Bay. There were no waves this time but we were blessed with one of the most photogenic sunsets I have witnessed in Cornwall for some time. Al snapped away and you can see some of the shots that he captured below. You can see more of his work at www.alex-photo.com

So pretty much the rest of the week was spent working with Bear through a collection of new ideas for a record that we are hoping to have under our belt in time for a 2014 release. It's been a good process, in theory we already have more than enough songs to make a new EP/album but we continue to write to see if we can better what we have already done. So far we are getting buzzed with the new direction we are taking and have been putting ideas together with both Sam (drums) and Leo (bass) to broaden the field of what's possible musically and sonically.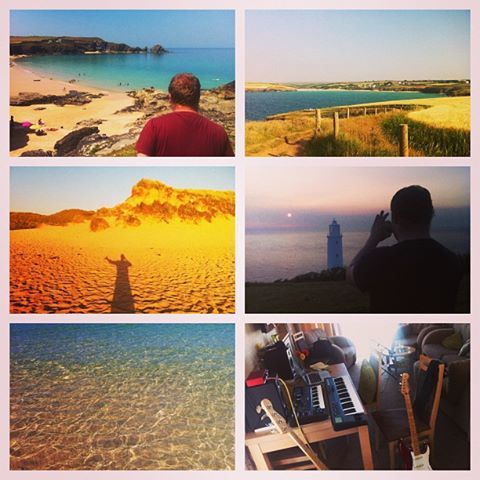 Also worthy of a mention was our show on Saturday night at the Carnglaze Caverns. The caverns themselves are three man-made caves formed as part of a slate quarry in the Loveny valley near the village of St Neot in Cornwall. One of the caverns was used during World War 2 as storage space for the Royal Navy to keep their rum supply. It is this cavern that in recent years has been transformed into a 400 capacity concert venue and they have done quite a spectacular job. With it being entirely carved out of rock the acoustics were second to none and we played to an awesome crowd who threw a shitload of vibe our way much to our great appreciation. A good time was had by all.
We will be putting up some new video content soon and don't forget if there is anything you would really like to see from us don't hesitate to ask via our facebook page facebook.com/jamesrobinsonofficial or via info@jamesrobinson-music.com
That's it for now, have a great week and we'll catch you round here in a bit!
James x